The City of Norfolk Public School Board is considering adopting a new sex education curriculum for middle schoolers created by Planned Parenthood that some parents say is too explicit and not age appropriate.
Norfolk Public Schools hosted public forums in April to discuss the new proposed curriculum, which the school said would provide medically-accurate, age-appropriate and evidence-based family life education and comprehensive sex education, according to local reports.
However, some parents say the curriculum titled "Get Real," developed by Planned Parenthood League of Massachusetts, is too explicit in details related oral sex, masturbation and in defining terms like gender identity, gender expression, cisgender, transgender, questioning and ally.
VIRGINIA GOV. YOUNGKIN ON TRACK TO RESTORE PARENTAL RIGHTS AGAINST WOKE EDUCATION BUREAUCRATS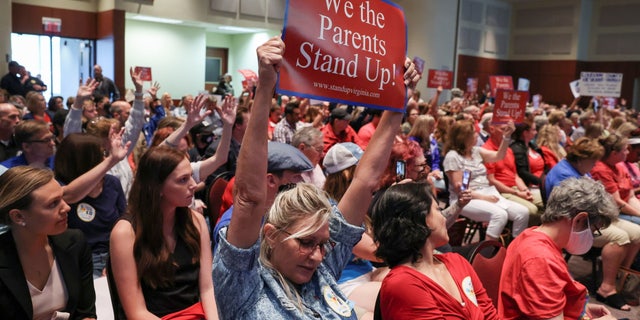 Parents and community members attend a Loudoun County School Board meeting about critical race theory in Ashburn, Virginia, on June 22, 2021. (REUTERS/Evelyn Hockstein)
Sylvia Bryant, a Virginia parent who has had multiple children educated in the Norfolk public school system since 1995, says the curriculum is "too inappropriate" and would be damaging to child development, and advocates that those topics should be left to parents, or should more closely involve parental oversight.
"Children at this age are in their shy development stage, and when you encourage them out of this normal development, and you force them into the next level, before they are mentally prepared, you've disrupted the normal growth of a child," Bryant said in an interview with Fox News Digital.
GOV. YOUNGKIN PROMISES TO USE 'FULL WEIGHT' OF OFFICE TO PROTECT PARENTS' RIGHTS
"Innocence is what makes a child a child. And when you take the innocence of a child away, you cannot put it back. You cannot give it back," she said.
Bryant says that when a teacher or educator circumvents parents to discuss personal things with a child they have "overstepped their boundaries."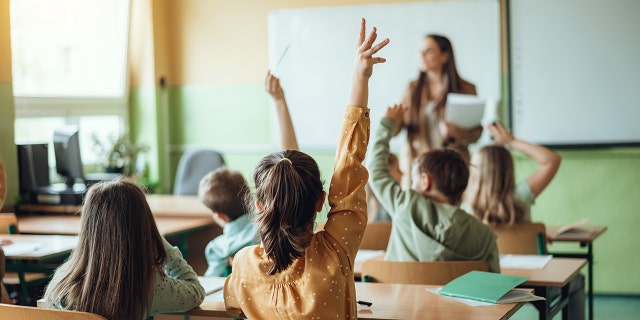 Students raising their hands while a teacher is asking them questions in a classroom. (iStock)
Bryant takes issue with the program that she says encourages students to "find up to three people to make a talk to about sex and sexuality."
"To me, it's taking away the child's normal inhibition about those topics. They can become relaxed enough to talk to strangers about them. And then that encourages sexual predators, trafficking and stuff like that," Bryant said.
DEMOCRATIC LAWMAKERS CAUGHT ON HOT MIC MOCKING PARENTAL RIGHTS AS 'GARBAGE,' 'STUPID'
Erika Sanzi, director of the parental rights group Outreach for Parents Defending Education, says the proposed curriculum displays "ideological bias."
"Planned Parenthood is an overtly political organization that managed to get its own curriculum added to the Department of Health and Human Services' list of 'evidence-based programs' in 2015," Sanzi said in a statement to Fox News Digital.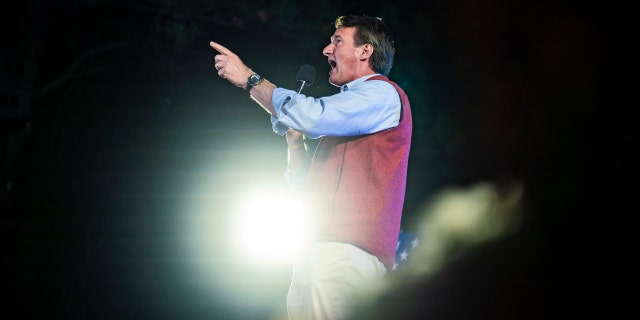 Virginia Gov. Glenn Youngkin speaks during a rally at Ballyhoos restaurant one day before the midterm elections on Monday, Nov. 7, 2022 in Virginia Beach, Virginia. (Photo by Jabin Botsford/The Washington Post via Getty Images)
"Predictably, the 470-page curriculum for middle schoolers, along with its sourcing, quickly reveals itself to be steeped in critical gender theory. Sixth graders are taught to use the term 'sex assigned at birth' and by 7th grade, students are immersed in gender lessons that parrot the tenets of gender ideology and attempt to coerce students into becoming allies and advocates for specific causes," she said.
The Norfolk school board will convene on Wednesday, May 3 to discuss the findings from six public forums, with a possible vote to take place on May 17 on whether to adopt the new curriculum.
A representative for the school district told Fox News Digital by email that "parents and guardians may opt out of all, or specific lessons, of the Family Life Education curriculum."
"Norfolk Public Schools will notify parents and guardians of this opportunity to opt out through letters along with outreach at the division and school levels," the representative said.
CLICK HERE TO GET THE FOX NEWS APP
Virginia has been a battleground for discussion of parental rights in public schools in recent years. Republican Governor Glenn Youngkin has been vocal about his disapproval of school boards infringing on parents' rights and vowed to use the powers of his office to defend Virginia law which protects these "fundamental rights."
His office did not immediately respond to a request for comment on the Norfolk Public School proposed curriculum.
A representative for Planned Parenthood did not immediately respond to Fox News Digitals request for comment.