Pope Francis made his first public appearance since undergoing abdominal surgery last week, visiting children in the hospital where he is staying.
The pontiff, who has continued to improve in health, visited Thursday with children in the Paediatric Oncology and Child Neurosurgery Ward of Gemelli Hospital, the facility in Rome where he has stayed during his recovery. He also met with medical staff and Vatican officials ahead of his impending release.
"The medical staff reports that Pope Francis rested well during the night. The clinical course is proceeding normally. The results of the blood tests within the normal range," said Vatican Press Office Director Matteo Bruni.
POPE FRANCIS STILL UNDERGOING RESPIRATORY THERAPY, BLOOD TESTS NORMAL
DOCTORS URGE POPE FRANCIS TO SKIP PUBLIC PRAYER, SAYS PONTIFF IS RECOVERING WELL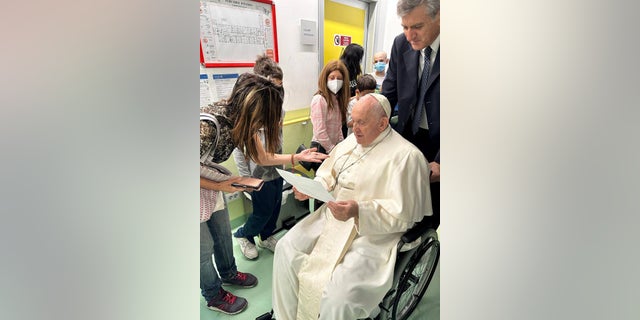 Pope Francis visits Gemelli's pediatric oncology ward after 2023 abdominal surgery (Vatican Media)
Pope Francis also met with a string of administrators for the Holy See and a series of clergymen, including: Bishop Claudio Giuliodori, General Ecclesiastical Assistant of the Catholic University; Father Nunzio Currao, Spiritual Assistant of the Polyclinic staff; representatives of the Board of Directors of the Fondazione Policlinico Gemelli; Gemelli Hospital President Carlo Fratta Pasini; Rector of the Catholic University Prof. Franco Anelli; and the governing bodies of the Polyclinic with the General Director Prof. Marco Elefanti.
The Vatican released photos of his visits with the young cancer patients and expressed the pope's gratitude for their support and prayers.
During the operation, doctors removed adhesions, or internal scarring, on the intestine that had caused a partial blockage.
Dr. Sergio Alfieri, director of abdominal and endocrine sciences at Gemelli hospital, said in a post-op press conference that the pope woke up in good spirits and was even joking immediately after the procedure.