As efforts to locate the missing Titanic-exploring submersible continue, former passengers are sounding off about their experience with OceanGate's Titan sub, with one labeling the adventure as a "suicide mission."
"It was a suicide mission back then!" retired businessman and adventurer Arthur Loibl, 61, told German outlet Bild.
In August 2021, Loibl participated in the underwater adventure, but shared that the experience was "extreme."
"The first submarine didn't work, then a dive at 1,600 meters had to be abandoned," he said, noting that his group ended up launching five hours later due to electrical issues.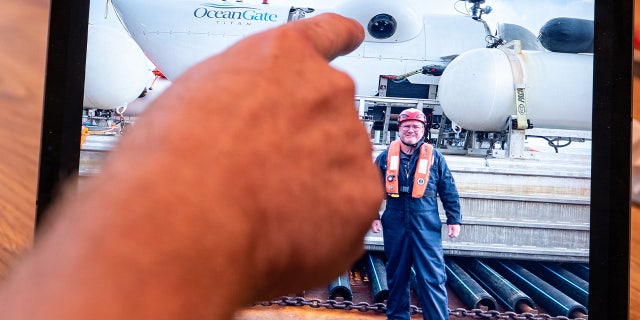 Loibl was one of three explorers to descend into the Atlantic Ocean in an OceanGate Expeditions sub to view the Titanic wreckage. (Armin Weigel/picture alliance via Getty Images)
He described the conditions the passengers are facing onboard the missing Titan submersible as "hell."
"You need strong nerves, you mustn't be claustrophobic, and you have to be able to sit cross-legged for ten hours," Loibl said. "It must be hell down there. There's only 2.5 meters of space, it's four degrees, there's no chair, no toilet."
The sub, which is carrying five passengers, measures about 22 feet long and 9.2 feet wide, according to OceanGate's website.
"Being a modern-day adventurer interested in pushing the boundaries of our knowledge of places that people go… the Titanic is obviously an iconic wreck," Chris Brown told Good Morning America. "It's a chance for an expedition, an exploration and adding a bit of science into the situation."
OceanGate's Titan submersible has been missing since Sunday with five passengers onboard. (OceanGate Expeditions)
Brown, 61, dropped out after becoming concerned over the quality of technology and materials used by the company, but declined to comment on the specifics of the safety features that he saw as red flags.
In a video interview in 2022, OceanGate CEO Stockton Rush revealed that the sub is operated by a game controller that currently retails on Amazon for $30.
"We fully understand the risk and take them onboard," he said. "But [friends and family] haven't been so involved in the process…in a situation like this, it's probably as if the bottom has dropped out of their worlds."