Toni Breidinger has already been one of the most dominant female competitors on the racetrack.
She picked up more than a dozen victories in the U.S. Auto Club Western Midget series, had one top 10 finish in the ARCA Menards Series East in four starts and nine top 10 finishes in 35 races on the main ARCA Menards Series circuit and became a Victoria's Secret model in September 2022.
All before her 24th birthday. And she's not done yet.
On Saturday, Breidinger will be racing in the NASCAR Craftsman Truck Series at Kansas Speedway for the first time and make history as the first Arab American woman to compete on the trucks circuit. She will race for TRICON Garage and drive the No. 1 Victoria's Secret Toyota Tundra TRD Pro.
CLICK HERE FOR MORE SPORTS COVERAGE ON FOXNEWS.COM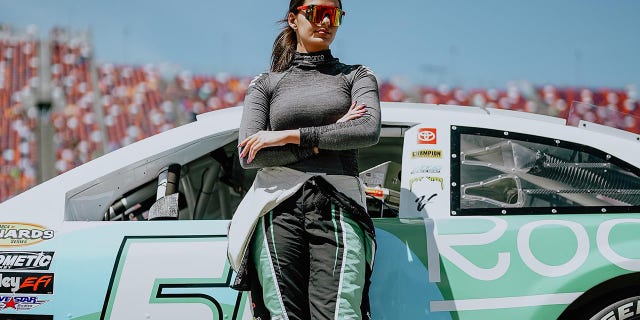 Toni Breidinger outside her car (Roman Empire)
"I feel like it's very important to have representation in the sport," Breidinger told Fox News Digital in a recent interview. "To me, it's really exciting to hopefully be paving the path for the younger girls.
"I feel excited but, at the same time, I wish I wasn't the first because I think NASCAR has been around for so long. So, I feel like every time some of us girls are breaking these barriers, all of this stuff I feel like they should have broken a long time ago, it's kind of like a mixed emotion type of feeling. But I'm really proud to be able to represent the sport."
Breidinger, who grew up near San Francisco, wasn't exactly on the path to racing when she was younger. She was just having fun.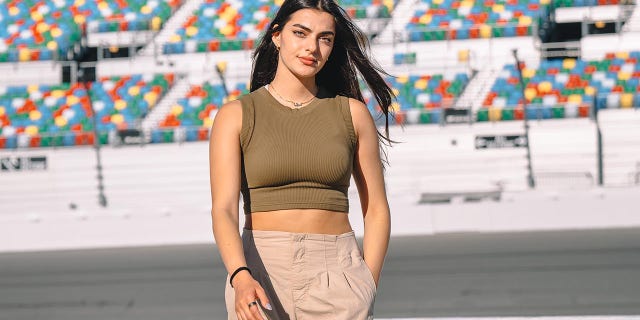 Toni Breidinger (Roman Empire)
"I started racing when I was in go-carts at 9 years old and purely just for fun," she told Fox News Digital. "My dad was basically driving down the highway to work and saw a sign for go-cart lessons, and he took me and my twin sister, Annie, there. And we did a go-cart class.
"We both fell in love with it, and then he got us one go-cart to share. And just every weekend we'd go up for fun. It was kind of more of a way for my dad to bond with us and have like a father-daughter activity than anything.
"But I took it really seriously at a young age and told him that I wanna be a race car driver. And he definitely thought it was just going to be a phase. But I stuck with it, and it's been a long 14-year journey. But here I am."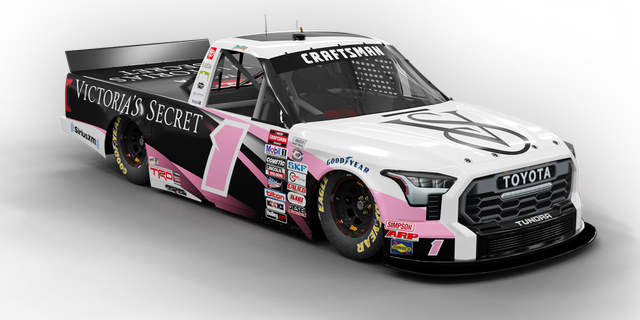 The paint scheme for Toni Breidinger's truck. (Handout)
Aside from all the wins and top finishes at the different levels of the sport, one of her biggest accomplishments was becoming a Victoria's Secret model. In September 2022, she announced she was going to become a part of that lingerie family.
MARTIN TRUEX JR MASTERS THE MONSTER MILE FOR 3RD TIME
"little me is crying. growing up I struggled a lot with body confidence. this past year I focused on my mental and physical health over appearance. I'm honored to be part of @victoriassecret family. Thank you for letting me feel confident in my own skin!" she wrote at the time.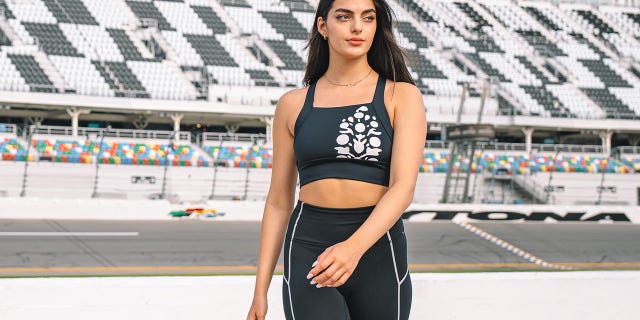 Toni Breidinger walks in pit lane (Roman Empire)
Breidinger told Fox News Digital she realized her dream, and now she gets to ride in a truck that's sponsored by the company.
"It's so crazy. It's funny because I joke that I manifested it when I was little because I had this journal. And I used to write that I wanna be a race car driver. And I also wrote I want to be a Victoria's Secret model," she said. "So, the fact that they both happened, like two worlds colliding, is like so surreal. It's pretty crazy.
"I'm really proud to be with the brand. It's really incredible that they're supporting me in such a big and major moment in my career. It's surreal. It's like crazy. I start smiling real big when I start thinking about it."
To be one of the few women in the truck series, Breidinger says, is a proud moment for her.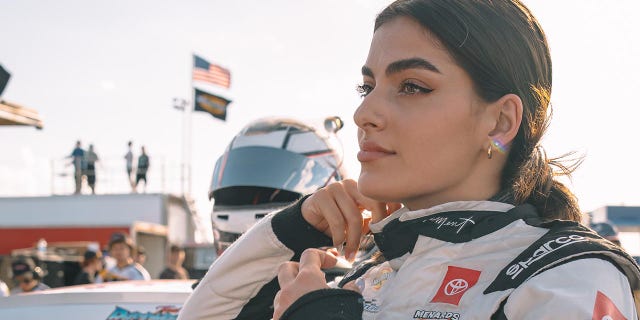 Toni Breidinger gets geared up (Roman Empire)
"I'm really proud about it and especially now with Victoria's Secret on the truck for this. I'm just proud to stand alongside a brand that really champions women because I feel like, for me, I really believe so much in representation. And I think of so much of females racing in the sport," she said.
"When I was growing up and I saw female race car drivers, that inspired me so much. So, I can imagine that's kind of the same for younger girls.
NASCAR'S ROSS CHASTAIN 'PROBABLY NEEDS TO GET HIS BUTT WHOOPED,' BRENNAN POOLE SAYS AFTER CRASH
"So, it is really important to me, and I kind of put pressure on myself to do well, to show people like, 'Hey, we are capable of doing this' and also for young girls. I add that extra pressure on myself because I really want to be a great representation for us females. But at the same time, I don't really set myself apart from the other drivers. I see myself as everyone else, so it's kind of like two parts to it."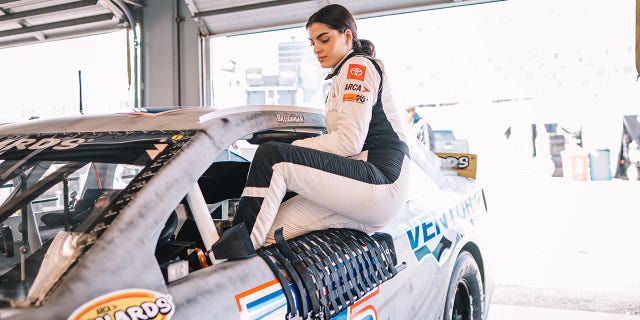 Toni Breidinger gets into her stock car (Roman Empire)
Breidinger added that getting to the highest level of stock car racing, the NASCAR Cup Series, is in her "five-year plan." She said she has one more truck race already lined up after Kansas.
CLICK HERE TO GET THE FOX NEWS APP
Breidinger will do double duty on Saturday. She will drive in the ARCA Menards Series race, the Dawn 150, in the afternoon and then gear up for the truck race, the Heart of America 200, at night. The ARCA race is set for 2 p.m. ET, and the truck race is scheduled for 8 p.m. ET. Both races can be seen on FS1.