E-bikes are becoming some of the most popular ways to get around due to their convenience and speedy effortless ride. They're also cost effective and come in different shapes, sizes and styles. What I also love about them is you will never get exhausted pedaling around town again.
Many e-bike lovers claim there are savings at the gas pump by using an e-bike for quick errands instead of a car.
When considering purchasing an e-bike, some of the factors to consider include the type of terrain you will be riding on, the distance you will be covering, your budget and battery life.
Some of the top features to look for in an e-bike include a powerful motor, a long-lasting quality battery that has gained certification from the likes Underwriters Labs (UL), a durable frame and a comfortable seat.
Here are the top-rated e-bikes of 2023, starting with the chunky fat good Heybike.
CLICK TO GET KURT'S FREE CYBERGUY NEWSLETTER WITH QUICK TIPS, TECH REVIEWS, SECURITY ALERTS AND EASY HOW-TO'S TO MAKE YOU SMARTER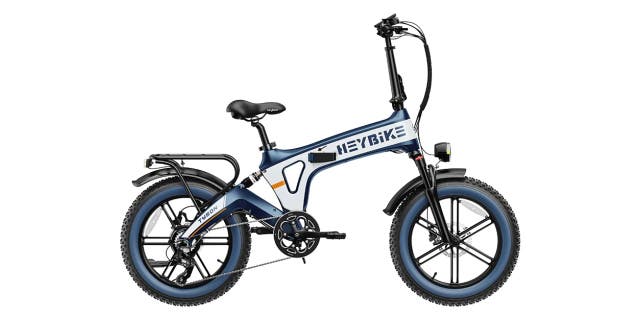 The foldable Heybike takes 4-5 hours to charge.  (Heybike)
The Tyson model from Heybike was awarded one of the best of CES 2023 and was recently released to the public. It's foldable, has a 55-mile range, can handle up to 400 pounds, and only takes 4-5 hours to charge. It uses hydraulic disc brakes, meaning braking is easy no matter where you're riding, and the bike itself is energy efficient. Pricing for the bike starts at just under $1,700. At the time of publication, the Heybike had a 5-star rating on its website.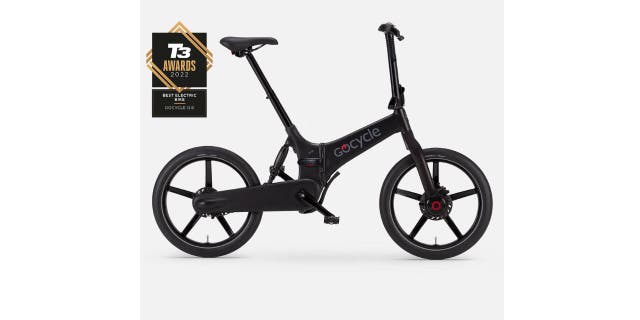 The Gocycle G4 can cost from $5,400 to $7,000. (Gocycle)
ELECTRIC CARGO BIKE AIMS TO REPLACE YOUR SUV
The Gocycle G4 is an award-winning e-bike that will cost you a lot more than some of the others on the market. However, it's one of my favorites as well. It has about a 40-mile range, plus it folds into a stowaway shape you can store in a lot of places a bike would never fit. It comes with a USB plug, so you can charge your phone on your ride, and its motor makes for a smooth and quiet ride. Depending on the model, it can cost you between $5,400 and $7,000. At the time of publication, this product had a 4.3-star rating on Google.
FOR MORE OF MY TIPS, SUBSCRIBE TO MY FREE CYBERGUY REPORT NEWSLETTER BY HEADING TO CYBERGUY.COM/NEWSLETTER
The Pace 500.2 from Aventon comes in a step-through model, which means you can easily get your leg over the bike to start your ride. It has a cushy seat and upright frame and goes up to 47 miles depending on your speed. This bike will run you a little under $1,400, making it the most affordable and accessible option for anyone looking to get on an e-bike. At the time of publishing, the Pace 500.2 had a 4.7-star rating on its website.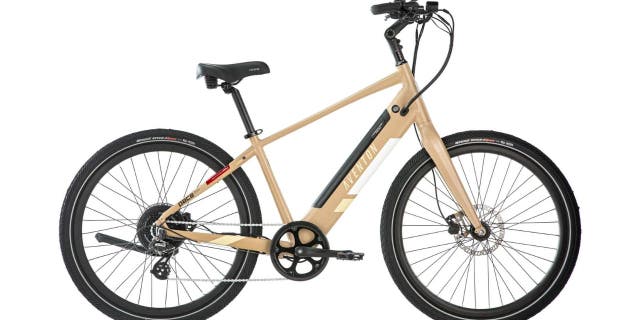 The Pace 500 Aventon costs a shade under $1,400. (Aventon)
SEAGLIDER TAKES OFF: ANOTHER MAJOR AIRLINE JOINS THE PUSH FOR BATTERY-POWERED WATER FLIGHTS 
Investing in an electric bike can be a game-changer for your daily commute. With their convenience, eco-friendliness and cost-effectiveness, it's no wonder they're becoming increasingly popular. Whether you're looking for power, durability or comfort, these top e-bikes are worth considering.
No matter which e-bike you may end up with, never store or recharge an e-bike near the entrance or exit to your home or office due to the risk of fire.  Always inspect the condition of the battery and get any damaged battery repaired or discarded properly without delay.  Using incorrect chargers and poorly made or damaged batteries can lead to catastrophic fires.
CLICK HERE TO GET THE FOX NEWS APP
FOR MORE OF MY TIPS, SUBSCRIBE TO MY FREE CYBERGUY REPORT NEWSLETTER BY HEADING TO CYBERGUY.COM/NEWSLETTER
Copyright 2023 CyberGuy.com. All rights reserved.