An Apple AirTag tracking device helped Seattle police track down a stolen SUV early Thursday and put the suspect behind bars.
Officers responded to a 911 call from a homeowner in the Windermere neighborhood just before midnight. The resident said a family member had seen a man inside their house.
While on the phone, the caller saw their vehicle being driven away from the house and noticed a purse was missing from the residence.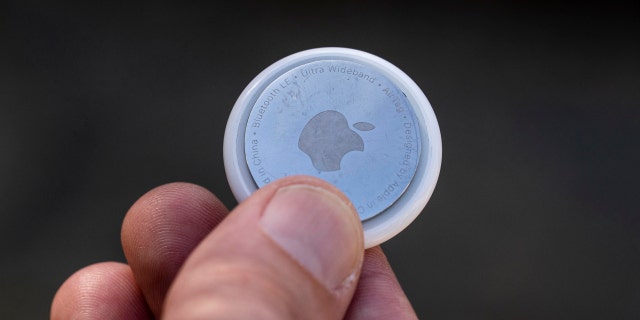 An individual holds an Apple AirTag in San Francisco, March 14, 2022.  (Melina Mara/The Washington Post via Getty Images)
The homeowner told police that a "small tracking device" attached to a set of keys was inside the purse. Using information from the tracking device, the victim told police where the stolen vehicle was located.
As officers were heading to the stolen vehicle, police received a report of a road rage incident in the 3000 block of NE 140th Street. The vehicle involved matched the description of the stolen SUV from earlier.
MAN ALLEGEDLY STEALS CAR, CRASHES INTO FLORIDA BUILDING WHILE LOOKING FOR INTERNET CONNECTION: POLICE
Around 12:30 a.m., police received another report, this time of a man shot while sitting in his vehicle at 3rd Ave NW and NW 75th Street.
Officers found the victim with a non-life-threatening gunshot wound and damage to his vehicle from gunfire. The victim gave police a description of a vehicle that matched that of the stolen SUV from earlier.
Seattle police and Washington State Patrol located the stolen vehicle and the suspect in a Queen Anne neighborhood. The suspect refused to comply with police demands and fled on foot.
Officers eventually found the suspect hiding in the backyard of a residence and arrested him. Police found evidence of a shooting and recovered the homeowner's purse inside the stolen vehicle.
CLICK HERE TO GET THE FOX NEWS APP
The 59-year-old suspect was transported to the King County Jail and booked for investigation of assault and burglary.