The Supreme Court on Thursday ruled for a onetime top aide to ex-Democratic Gov. Andrew Cuomo of New York and for others who were convicted of corruption related to an economic development project known as the "Buffalo Billion."
In two cases before the court, both liberal and conservative justices were unanimous in saying there were problems with the convictions. The cases are the latest in a line stretching back years that criticize federal prosecutors for overreaching in public corruption cases against state and local officials, as well as people doing business with government.
In 2020, the high court threw out the convictions of political allies of former Gov. Chris Christie, R-N.J., over the "Bridgegate" scandal that involved four days of traffic jams on the George Washington Bridge. In 2016, the Supreme Court threw out the bribery conviction of former Gov. Bob McDonnell, R-Va.
The current cases grew out of the "Buffalo Billion" development project, which was intended to revitalize parts of Buffalo and other areas in upstate New York. But the project was a multiyear black cloud over the Cuomo administration and was frequently cited by critics as proof that Cuomo failed to address chronic corruption in state government, even within his own administration. Cuomo resigned in 2021 amid sexual harassment allegations.
CORRUPTION TRIAL BEGINS IN BUFFALO BILLION CASE
In one case, the justices ruled for Joseph Percoco, a former aide so close to Cuomo that he was considered like a brother. Percoco was convicted of accepting money from companies seeking to influence the Cuomo administration as it worked on the "Buffalo Billion" project.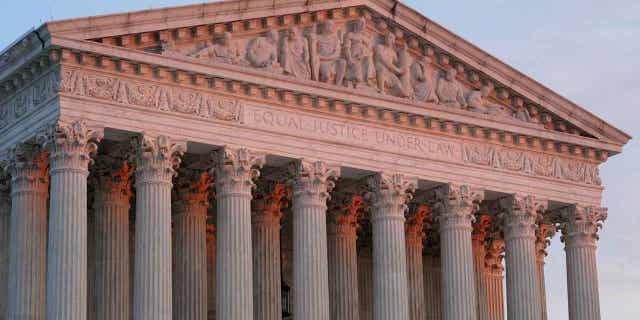 The Supreme Court building is pictured on Capitol Hill in Washington DC, on Jan. 10, 2023. The Supreme Court ruled in favor of a former aide to ex-New York Gov. Andrew Cuomo, Joseph Percoco, relating to a corruption conviction that occurred during an economic development project known as the "Buffalo Billions."  (AP Photo/Patrick Semansky, File)
Percoco was ultimately sentenced to six years in prison, a conviction upheld on appeal. The case also involved Syracuse real estate executive Steven Aiello who paid Percoco for his assistance.
PRISON FOR NY DEVELOPER IN BUFFALO BILLION BID RIGGING CASE
But the Supreme Court, in an opinion by Justice Samuel Alito, said the jury in Percoco's case was given improper instructions when it found him guilty of a wire fraud conspiracy count. Percoco was convicted "based on instructions that required the jury to determine whether he had a 'special relationship' with the government and had 'dominated and controlled' government business … We conclude that this is not the proper test," Alito wrote.
In a statement, Percoco's lawyer, Yaakov Roth, said his client's prosecution was "an abuse of the federal fraud statutes." He added: "We are gratified that the court agreed with our position that he was not a public official during the relevant time period, and so he did not violate federal law by acting on behalf of private clients."
Roth said a lower court will have to determine whether his client's two remaining convictions can survive after the Supreme Court's ruling. But Percoco has finished serving his sentence, so the question is just whether the remaining convictions will stay on his record.
CLICK HERE TO GET THE FOX NEWS APP
In the second case, which also involved Aiello, the court ruled for him and for developers Louis Ciminelli and Joseph Gerardi and Alain Kaloyeros, formerly one of Cuomo's top economic development advisers. The court in an opinion by Justice Clarence Thomas said that the basis for their fraud convictions was faulty.
The group's prison terms had been put on hold while their case was appealed and the decision makes it more likely that this is the end of the case.