Two Swedish women were seen on video gluing themselves to a Monet painting at the National Museum in Stockholm and smearing it with red paint Wednesday.
The women were both from the environmental activist group, Restore Wetlands. The group said the women's actions were intended to pressure the Swedish government to reduce greenhouse gas emissions.
"The situation is urgent. As a nurse, I refuse to watch. The pandemic was nothing compared to the climate collapse. It's about life or death," one of the women, identified in a news release as Emma Johanna Fritzdotter, shouts in the video.
"People won't just die from heat stroke. New diseases will spread, and we cannot even imagine the extent of this," she said.
Display Spokesperson Hanna Tottmar said the artwork was encased in glass and "is now being examined by the museum's conservators to see if any damage has occurred."
"The Artist's Garden at Giverny," which Monet painted in 1900, is the latest artwork in a museum to be targeted by climate activists to draw attention to global warming.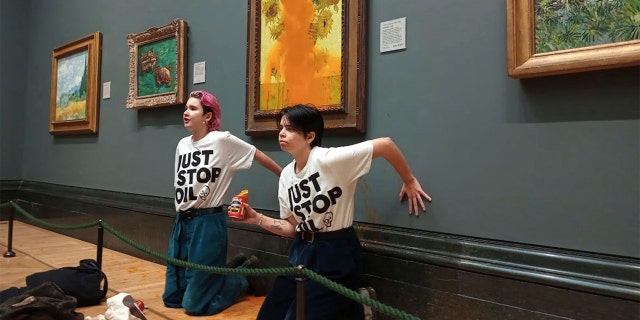 FILE: Handout photo issued by Just Stop Oil of two protesters who have thrown tinned soup at Vincent Van Gogh's famous 1888 work Sunflowers at the National Gallery in London, Friday Oct. 14, 2022. (Just Stop Oil via AP)
The British group Just Stop Oil threw tomato soup at Vincent van Gogh's "Sunflowers" in London's National Gallery in October.