A wildlife photography hobbyist from Texas snapped pictures of mother nature at work when a large snake decided to eat a sizable fish at one of his local parks.
Ed Means, of New Braunfels, Texas, was searching for green heron at the Landa Park fishing pier on Wednesday, April 19, when he spotted a diamondback water snake eating a fish that looked too large for the serpent's jaws.
Means photographed the moment and shared it on Facebook later that evening.
BURMESE PYTHON AND BOBCAT FACE OFF AS SNAKE TRIES TO PROTECT NEST: '1ST RECORDED INSTANCE'
"I heard a ruckus in the water," Means captioned his post. "This is what I saw, a Diamond-backed Watersnake eating a fish."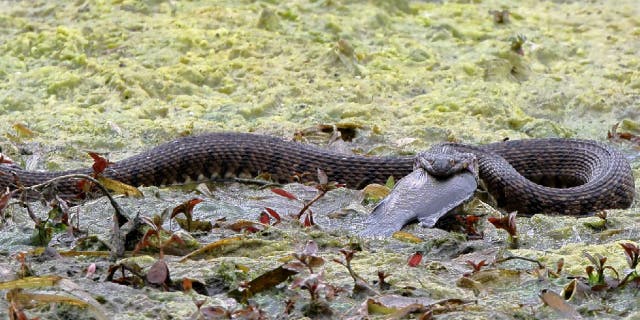 Ed Means, a Texas man who likes to photograph wildlife, spotted diamondback water snake eating a sizable fish at Landa Park in New Braunfels, Texas, on April 19, 2023. (Ed Means)
"Took him quite a while, but he got the job done," he recalled. "If you're squeamish, then scroll on down the page. (You will probably look anyway)."
In another post Means shared on April 23, he wrote, "What a sight to see!"
Combined, both posts have generated over a hundred reactions and comments on Facebook.
SNAKE CATCHER REMOVED A GIANT PYTHON AFTER A COUPLE REPORTED THEIR CLOGGED DRAIN: 'NOT WHAT I WAS EXPECTING'
"Wow what a neat experience," one commenter wrote.
"Nature at its finest," another commenter shared.
"It amazes me how their mouth unhinges like that," another commenter speculated.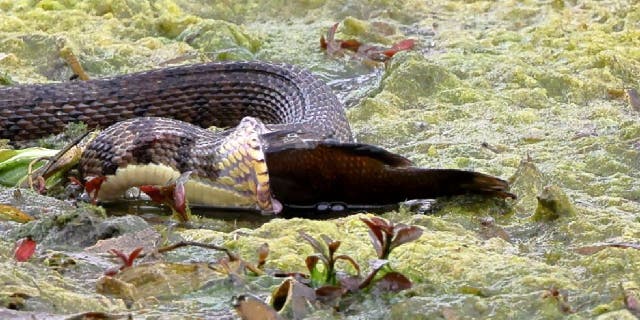 The diamondback water snake expanded its jaw to accommodate its fishy prey, photos captured by Ed Means show. (Ed Means)
Ripley's Believe It or Not! and multiple wildlife resources state that snakes don't actually have jaws that are capable of unhinging or dislocating, and the misconception has created a myth.
FLORIDA ALLIGATOR SEEMINGLY EATS SMALLER ALLIGATOR IN RARE WILDLIFE ENCOUNTER: 'IT'S CRAZY'
Instead, snake jaws have evolved to accommodate larger prey.
"The mechanism that satiates their gargantuan appetites is known as 'gaping,'" Ripley's wrote. The result of a unique physiological adaptation, gaping allows serpents to partake in some jaw-dropping—pun intended—feats of mouth agility."
The oddities fact publication explained that snake mandibles aren't fused with the rest of its jaw like other animals. The mandibles are connected to the top jaw with "stretchy ligaments" that "bind these moveable pieces," so snakes can contract and expand their jaws as needed.
Texas Parks and Wildlife confirmed this fact in a frequently-asked-questions profile the agency published about snakes.
CLICK HERE TO SIGN UP FOR OUR LIFESTYLE NEWSLETTER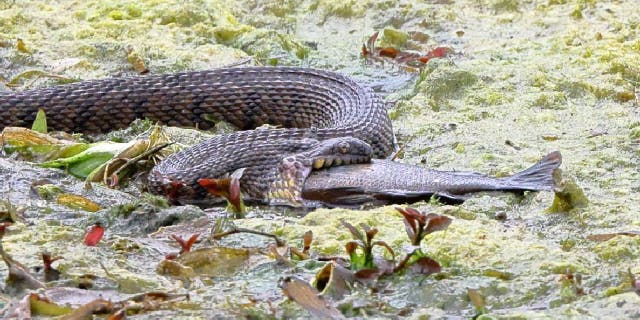 The diamondback water snake in Landa Park, Texas, eventually swallowed the fish it captured, according to photography hobbyist Ed Means. (Ed Means)
Diamondback water snakes are native to Texas wetlands, but their exact population is unknown, according to the U.S. Geological Survey.
The species is considered nonvenomous and can be found throughout the central U.S. and northern Mexico.
Their typical prey includes fish, frogs, toads, salamanders and crayfish.