The town of Hauula packs hundreds of homes into a narrow strip of land sandwiched between verdant, towering cliffs of the Koolau mountain range and the Pacific. But the stunning views obscure an environmental problem beneath the ground.
This rural part of the island of Oahu is not connected to city sewers — and waste from toilets, sinks and showers is mostly collected in hundreds of pits called cesspools.
With climate change, rising seas are eroding Hawaii's coast near homes with cesspools. Sea rise also is pushing the island's groundwater closer to the surface, allowing the cesspool effluent to mix with the water table and flow into the ocean. And scientists say cesspool pollution may even percolate into streets and parks in low-lying former wetlands in the future.
"We want proper sanitation as much as anybody wants it. We don't want our children swimming in an ocean of bacteria," said Dotty Kelly-Paddock, president of the Hauula Community Association. "It's got to change."
Cesspools sprang up across Hawaii during years of rapid growth and now are everywhere from old sugar plantation towns to the posh Honolulu enclave Black Point.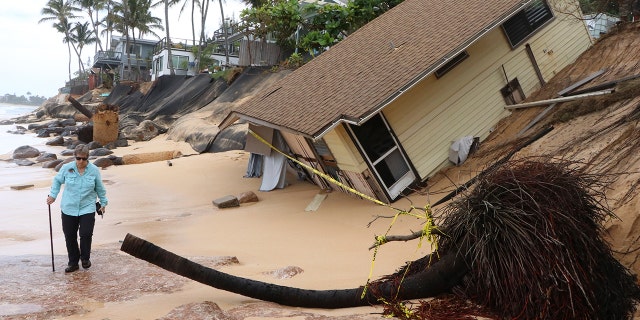 A Hawaiian home is shown after it collapsed onto a beach on Feb. 28, 2022, in Haleiwa, Hawaii. (Dan Dennison/Hawaii Department of Land and Natural Resources via AP)
Most homes with cesspools are in neighborhoods without sewers. In theory, the ground gradually filters bacteria and pathogens in effluent from them.
HAWAII GOV. JOSH GREEN CUTS $500 MILLION FROM BUDGET WITH LINE-ITEM VETO
Researchers also found bacteria levels in the ocean exceeded state health standards in front of 81% of the Puako homes sampled.
CLICK HERE TO GET THE FOX NEWS APP
Public health officials warn exposure to sewage can cause gastroenteritis, diarrhea, conjunctivitis and skin infections. A 2020 Hawaii Department of Health report said little is known about how bacteria and viruses are carried through waters in wet tropical regions where people swim year round, but it said Hawaii had twice the rate of difficult-to-treat superbug MRSA infections than the national average.