The wife of Stockton Rush, the OceanGate CEO who vanished Sunday on the tourist submersible that dove to view the Titanic wreckage before its catastrophic demise, is a descendant of two first-class passengers who died on the Titanic, Fox News confirmed Thursday.
His wife, Wendy Rush, is the great-great-granddaughter of Isador and Ida Straus, who were among more than 1,500 people who died after the iconic ship struck an iceberg and sank during a voyage through the Atlantic Ocean in 1912, Joan Adler of the Straus Historical Society said.
Isador Straus and his brother had acquired the Macy's department store in the late-1800s. Rush is descended from one of the couple's daughters, Minnie Strauss, who married Dr. Richard Weil; their son's son, Dr. Richard Weil III, is Wendy Rush's father, Fox News is told.
The Strauses are remembered for having chosen to remain on the ship together; Ida Straus refused to get on one of the few lifeboats as crews were trying to save women and children, Paul Kurzman, a great-grandson of theirs, told Fox News. James Cameron's 1997 blockbuster film "Titanic" depicted their love story featuring a scene of an elderly couple holding hands as they lay on their bed.
Wendy and Stockton Rush reportedly married in 1986, and she worked with her husband as the communications director for OceanGate, according to her LinkedIn page.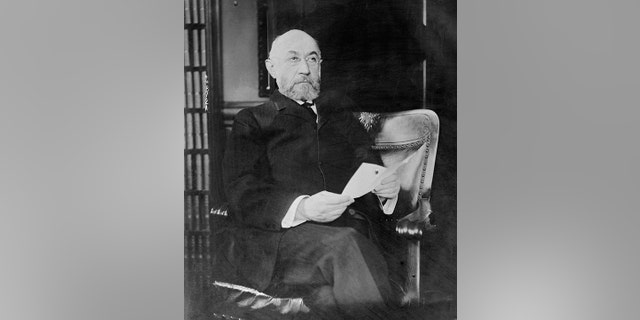 NY merchant Isador Straus was one of the 1,517 passengers who died when the Titanic struck an iceberg in the Atlantic Ocean April 14, 1912. (Getty Images)
She previously served as the president of the OceanGate Foundation, where she has served as a board member, her profile showed.
STEPSON OF TITANIC SUBMARINE PASSENGER ATTENDS BLINK-182 CONCERT AMID SEARCH: 'HELPED ME THROUGH HARD TIMES'
United States Coast Guard officials announced Thursday that crews found wreckage from the sub not far from the Titanic site.