Yusef Salaam, one of the exonerated "Central Park Five," has won a Democratic primary for a seat on the New York City Council, all but assuring him of eventual victory. It's an improbable feat for a political novice who was wrongly accused, convicted and imprisoned as a teenager for the rape and beating of a white jogger in Central Park.
The Associated Press refrained from calling the race on election night, but vote tallies released Wednesday showed him to be the clear winner to represent Central Harlem. Salaam is not expected to face a serious challenge in November's general election, if any.
It is time, he said, for "a new Harlem renaissance."
"To have a voice from a person who's been pushed into the margins of life — someone who has actually been one of those who has been counted out — is finally having a seat at the table," Salaam said in an interview Wednesday.
His outsider campaign prevailed over two political veterans — New York Assembly members Inez Dickens, 73, and Al Taylor, 65 — in his first bid for public office. Democratic socialist Kristin Richardson Jordan, the incumbent council member, dropped out of the race in May but remained on the ballot.
Salaam declared victory on election night with his vote tally barely exceeding 50%, although an unknown number of absentee ballots had yet to be counted. But his lead over Dickens, his nearest competitor, seemed insurmountable, and both she and Taylor conceded. New York City is still tabulating late-arriving mail ballots that could potentially push him back above the 50% threshold, in which case he will have won without the benefit of ranked-choice voting tallies.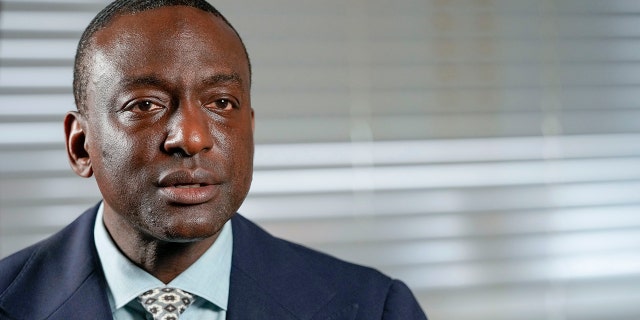 New York City Council candidate Yusef Salaam speaks during an interview on May 24, 2023, in New York. (AP Photo/Mary Altaffer, File)
"When I think about the things that we need the most, of course on the top of everyone's list are affordable housing, education and safe streets," Salaam told the AP.
Others were looking for a change in leadership.
Zambi Mwendwa said she voted for Salaam because he is "a new face." She said her decision had nothing to do with the injustice in his past.
"I've heard him talk. He seems to be talking about the things I care about," Mwendwa said on election day.
Salaam moved to Georgia shortly after he was released and became an activist, a motivational speaker, an author and a poet. He returned only in December to launch his campaign.
Salaam was 15 when he was arrested along with Antron McCray, Kevin Richardson, Raymond Santana and Korey Wise, who served between five and 12 years in prison before prosecutors agreed to reexamine the case. DNA evidence and a confession ultimately linked a serial rapist and murderer to the attack, but he wasn't prosecuted because too much time had passed. Their convictions were vacated in 2002 and the city ultimately agreed in a legal settlement to pay the exonerated men a combined $41 million.
CLICK HERE TO GET THE FOX NEWS APP